About Derek Flickinger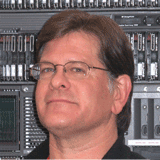 Considered "one of the experts in the industry" for distributed audio, video, communications, control, and entertainment systems, Derek Flickinger was one of the founders and Vice President of Research and Development for Interactive Homes, Inc. That essentially means he's a custom systems integrator who gets to do what he loves – play with all the latest gadgets.
HDMI® brings audio and video truly into the digital age. With a degree in teaching and a history peppered with groundbreaking and innovative custom installations ranging from the world's first small-domed OMNIMAX theater in a space museum and planetarium facility to Compaq's original worldwide internal PC-based network, there are few better placed to deliver the low-down on HDMI than Derek.
By constantly looking a few years ahead of industry trends while at the same time promoting industry standards through affiliations with various organizations (with tongue-twisting acronyms), Derek has been able to keep ahead of the technology curve.
Derek's shared his knowledge and experience before through multiple industry magazines including LAN Times and CEPro in addition to forming several user groups and presenting at events such as CEDIA, but never before has he gone into the underlying detail that has been put into HDMI Uncensored – Inside HDMI. Who could better compliment Jeffrey Boccaccioto deliver the most complete guide to HDMI ever compiled?